GYPSUM PLASTER
Gypsum plaster has been used for thousands of years but remains a surprisingly modern material.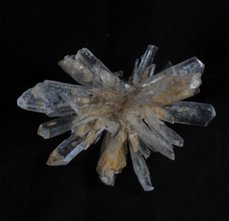 Gypsum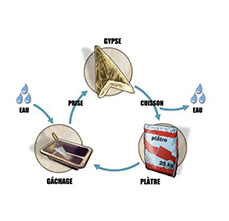 From Gypsum to Plaster, and Gypsum Products
After quarrying, the gypsum is crushed and fed to kilns. The gypsum is dehydrated by heating to about 130°C, to drive off the chemically combined water, and then ground to a fine powder, like plaster of Paris.
Gypsum plaster, in powder form, is ready to use by adding water. Its multiple uses include applications in building construction, decoration, casting and molding, agriculture, and water treatment. Industrial plasters and building plasters may include chemical additives, and are used to produce gypsum board, gypsum blocks and rendering materials.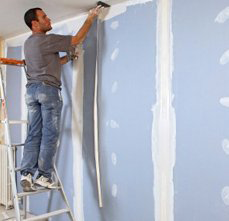 Building Construction, Decoration and Architectural Ornaments
Plasterers' skills, techniques and tools were traditionally handed down from one generation to another. While gypsum board (drywall) was introduced in the United States in the late 19th century and gained in popularity through the first half of the 20th century, French building construction, with lath and plaster walls and ceilings, remained largely unchanged until 1960. The introduction of plasters with longer working times, prefabrication, and mechanical (projection) plastering have changed how plaster is used in construction.
Patrimoine des enduits au plâtre en Île-de-France
This series (in French) examines plaster-rendered facades in the Greater Paris region
- Newsletter n° 1 janvier 2017
- Newsletter n° 3 septembre 2017
- Newsletter n° 4 janvier 2018
- Newsletter n° 6 février 2019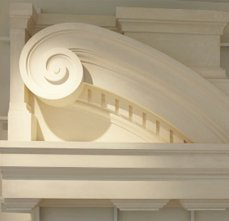 "Petit guide pour reconnaître et restaurer une façade en plâtre"
(Short guide on how to recognize and restore a gypsum plaster facade)
Produced by LRMH (Laboratoire de Recherche des Monuments Historiques) / French Ministry of Culture
This booklet reviews the history of gypsum plaster in the greater Paris area, how to recognize these facades, typical disorders, and how to restore them. (The cover shows the historical schoolhouse that was the first home of the museum in Cormeilles.)
"Plâtre. Sols et couvrements intérieurs. Du XIIIe au XIXe siècle"
(Plaster. Floors and interior renders. From the 13th to the 19th century)
Author: Christelle Inizan. Editions du Patrimoine, 2017. Download order form.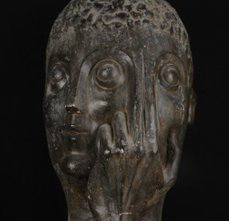 Sculpture
Sculptors have used gypsum plaster since ancient times; one of the most traditional casting techniques involves plaster molds that are broken after the casting hardens (the waste mold method). Plaster can also be sculpted directly by carving or modeling, or used with other media.
- Le décor de stuc dans l'art islamique (VIIIe-XXe siècle) (in French)
- Le cheval blanc de François Ier (1540-1543) (in French)
- Sompuosités baroques en Allemagne du Sud (in French)
- Historical plaster casts from the Louvre collection in Versailles (in English)
- La poterie de la Montagne à Saint-Honoré-lès-Bains (Nièvre) (in French)
- Le monument funéraire de Pierre Mocquot à Aix-en-Othe (1850) (in French)
- A Londres, des moulages en plâtre du XIXe siècle (in French)
- Yvonne Duttile, sculptrice (1883-1979) (in French)
- La République et ses masques. Culte du grand homme et culture matérielle (de la Ie à la Ve République)
Authors: Jonathan Barbier and Bruno Bertherat (with the gracious permission of the authors), Cahiers Jaurès 2016/1 (no. 219-220), Société d'Etudes Jaurésiennes, 2016, pp. 119-143 (in French)
- La dame au chapeau. La photographie des femmes mortes en France à l'époque de Bertillon
par Bruno Bertherat (with the gracious permission of the author), Corps, 2013/1, CNRS Editions, 2013, pp. 97-106 (in French)
THE SURREALIST SCULPTOR GEORGES BOULOGNE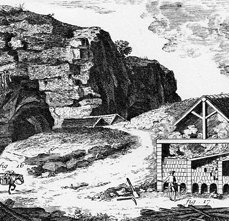 Gypsum plaster has been used across the Mediterranean Basin since ancient times.
There is ample evidence in France dating back to Gallo-Roman times—twenty centuries ago—including in the Paris region and specifically what is now Cormeilles-en-Parisis.
"Arts et techniques pour fabriquer du plâtre" (Arts and technology for making plaster)
by Vincent Farion, in Une Antiquité moderne, co-published by the French Academy in Rome and the Louvre Museum, Officina Libraria, 2019, pp. 204-206 (in French)
"Le plâtre changé en or, l'or changé en plâtre. Les mots et les images, symboles de richesse et de blancheur"
(Plaster into gold, gold into plaster. Words and images, symbols of weath and whiteness)
by Vincent Farion, in L'or blanc: de la métaphore des sens à la réalité environnementale et économique, supplement no. 15 to Cahier de l'ASER, 2020, pp. 37-43 (in French)
Gypsum Plaster in History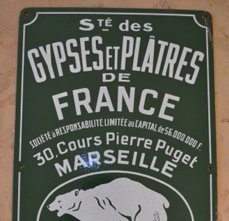 Gypsum in France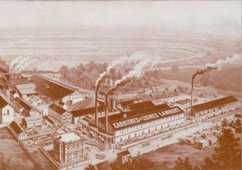 HISTORY OF THE CARRIÈRE LAMBERT
GRPA
Groupe de Recherche sur le Plâtre dans l'Art
The Museum is a partner of the GRPA, a research group that investigates the history, use and conservation of plaster in art.